Discover premium cigars with two distinct blends hand-selected by Julian Van Winkle made exclusively for Pappy & Company.
Pappy & Company is proud to offer two styles of handmade cigars produced in partnership with Drew Estate in Nicaragua. The Pappy Van Winkle Barrel Fermented Cigar is a 100% long-filler cigar. The Pappy Van Winkle Tradition Cigar a slightly more traditional blend.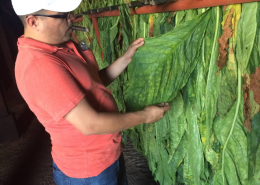 About Our Blends
Our Pappy Van Winkle Barrel Fermented cigar is a long-filler, premium cigar rolled in limited quantities. Deep barrel fermentation is the process that makes this cigar vastly different from anything else on the market. Our Pappy Van Winkle Tradition cigar is considered a very traditional "el habano" cigar, using Cuban seed, a handpicked blend and the traditional Cuban "entubado" rolling style. This cigar is meant to honor our family's bourbon legacy and the classic cigar-making process. Learn More.